Rob's Green Onion Cheese in the crust Pizza. Rob's Green Onion Cheese in the crust Pizza. To assemble pizza, place the crusts on the lined baking sheet and top with the buffalo jackfruit. Add the onion and bell pepper.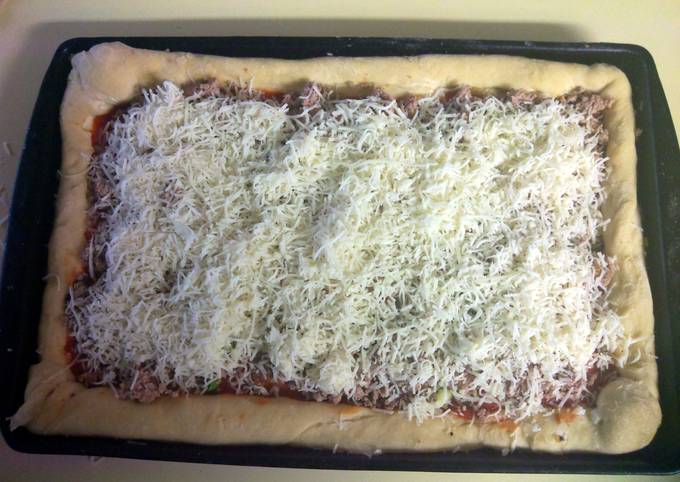 Top with cooked bacon and remaining cheese. Spread the caramelized onions evenly over the cheese, then sprinkle the rest of the grated mozzarella and fontina over the onions. Distribute the chives over the pizza, if desired. You can cook Rob's Green Onion Cheese in the crust Pizza using 7 ingredients and 8 steps. Here is how you cook it.
Ingredients of Rob's Green Onion Cheese in the crust Pizza
Prepare 1 bag of of shredded mozerella cheese.
You need 2 lb of white bread pizza dough (made from bread machine recipe).
It's 1 lb of ground turkey.
You need 1 can of mushrooms.
You need 1 can of pizza sauce.
Prepare 2 each of green onions.
You need 6 each of string cheese.
Preheat oven to broil and move oven rack to top level. Place iron skillet over medium heat on stovetop. Sprinkle finely shredded cheddar cheese (or a mix of cheeses) to cover fully cover the bottom of the skillet. With a handheld mixer, mix cream cheese, eggs, pepper, garlic powder, and parmesan cheese until combined.
Rob's Green Onion Cheese in the crust Pizza instructions
Make pizza dough in bread machine per instructions.
Layout pizza crust and roll string cheese into crust, then bake for 5 min in oven 350°F to brown crust..
Put pizza sauce on crust.
Put mushrooms on top of pizza sauce.
Put chopped green onions on sauce.
Add ground turkey on sauce.
Cover all toppings with whole bag of shredded cheese.
Bake pizza at 400°F for 20-30 minutes, or until bottom crust is golden brown.
This one's a white pizza, so there's no tomato-based sauce. Just a thin brush of olive oil, topped with mozzarella and sharp Pecorino Romano cheese. Top it green onions that are charred until they're tender, and two eggs: when you break the yolk, it covers the entire pie in a savory sauce. Tear cheese sticks in half lengthwise. Bring sides of dough up and over cheese.
source: cookpad.com