Cow boy burger on French loaf. Here is how you achieve it. Ingredients of Cow boy burger on French loaf. We love burgers, barbeque sauce and pineapple so we threw it all into a bread bowl and called it dinner for a group.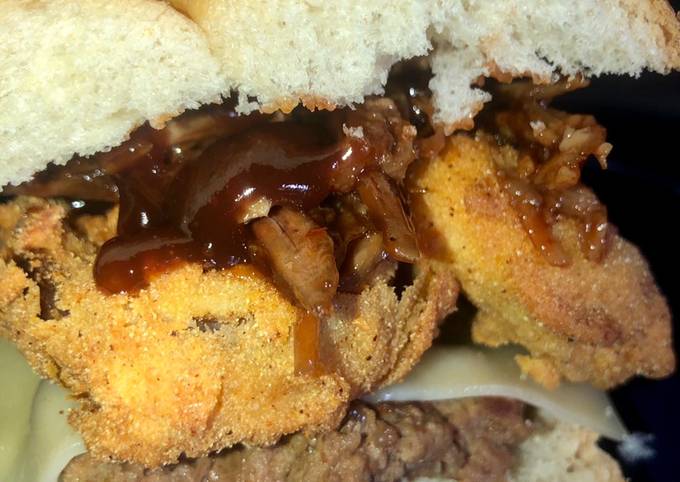 In a large skillet, cook the beef, onion and pepper over medium heat until meat is no longer pink. Cut french bread into half, (length wise) put on cookie sheet. Mix together all ingredients and spread onto french bread. You can have Cow boy burger on French loaf using 7 ingredients and 3 steps. Here is how you cook it.
Ingredients of Cow boy burger on French loaf
You need 1 lb of ground beef.
Prepare 1 of French onion soup packet.
Prepare 4 slices of cheese (I used Swiss but cheddar is probably the best choice).
It's 1 of French bread loaf.
Prepare 2 cups of bbq rib meat.
It's of Bbq sauce for drizzling.
It's of Onion rings (see my recipe).
Recreate your summer holiday plans at home with this flavourful French Boy Burger courtesy of Big Boys Fine Burger Co. – winners of the National Burger Awards. #StaycationBBQ Cut loaf of bread in half. In a skillet,combine beef, onions, oregano, salt and pepper and brown. Mix browned meat in a large bowl with crumbs, mustard, parsley, egg and cheese. In mixing bowl, combine beef, Italian seasoning, garlic salt, pepper, onion, mushrooms and pizza sauce.
Cow boy burger on French loaf step by step
Mix French onion soup mix with burger meat and shape into 4 patties. Cook until no longer pink..
Cut the French bread into 4 pieces and slice them open to make a "bun".
Assemble it: bread, patty, cheese, onion rings, bbq ribs, more bbq sauce and top with remaining half of bread..
Divide meat mixture in half and spread over each length of French bread. Be careful to spread meat right up to crusts to prevent bread from burning under broiler. Cook the patties on an outdoor grill or use a grill pan, and cook until the burgers are cooked through. To assemble the french bread burgers, slice the loaf of french bread in half lengthwise (using a bread knife). Add the patties across and over the cheese.
source: cookpad.com