Simple Bread/Roll Recipe. DIRECTIONS In a small bowl, mix milk with water. Deflate the dough, and turn it out onto a lightly floured surface. Flour your hands and make each piece of dough into a ball.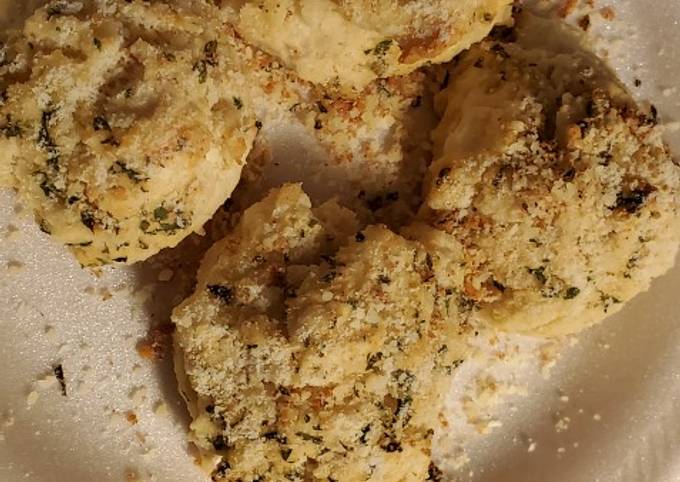 I've include a simple step-by-step photo tutorial below the recipe for those that just need a bit of visual oomph to give them the courage to dive into bread or roll making. You don't even need a stand mixer – this yeast dough is forgiving and easy enough to be made with a good old-fashioned bowl and wooden spoon. Put the bread in this bowl cover and let it rise. You can cook Simple Bread/Roll Recipe using 10 ingredients and 5 steps. Here is how you cook that.
Ingredients of Simple Bread/Roll Recipe
You need 1 Cup of AP Flour.
It's 2 TBSP of Mayo.
Prepare 1 TSP of Salt.
Prepare 1 TSP of Baking Powder.
You need 1/2 Cup of Milk.
It's of optional.
You need 3 TBSP of Melted Butter.
It's 1 TSP of Parmesan Cheese.
It's 1 TSP of Garlic Powder.
Prepare 1 TSP of Parsley.
Turn out on the counter and fold in sides, put back in bowl and let rise again. After the second rising it is time to turn it out and make the rolls or bread and place it in a pan. Make sure the pan is well oiled with vegetable oil. As soon as you remove the rolls from the oven, brush them with melted butter.
Simple Bread/Roll Recipe step by step
Preheat oven 350.
Mix all ingredients besides optional ingredients. Mix lightly to avoid tough bread!.
You can put the dough in muffin tins or on baking sheet as I did..
In small bowl mix optional ingredients and brush tops of dough..
Bake until lightly brown. Mine baked around 10-13 minutes. Once out the oven I sprinkled more parmesan on top. This recipe makes 5 rolls, my son decided to eat one before I took a pic! Enjoy!!!!.
No bread machine, fancy ingredients or extra steps required. A few simple ingredients and one foolproof recipe is all you really need. Homemade Garlic Bread is quick and easy to make, and the perfect accompaniment to pasta night! Featuring a simple spread made up of butter, oil. Cover the dough and let it rise.
source: cookpad.com