Chicken and Sweet Potato Broth. Buy Groceries at Amazon & Save. Chicken and Sweet Potato Broth Since we have been swopping things around, due to diet restrictions, I thought I would remake a favourite with the new ingredients. Amazing Lady ( Grace) West Drayton.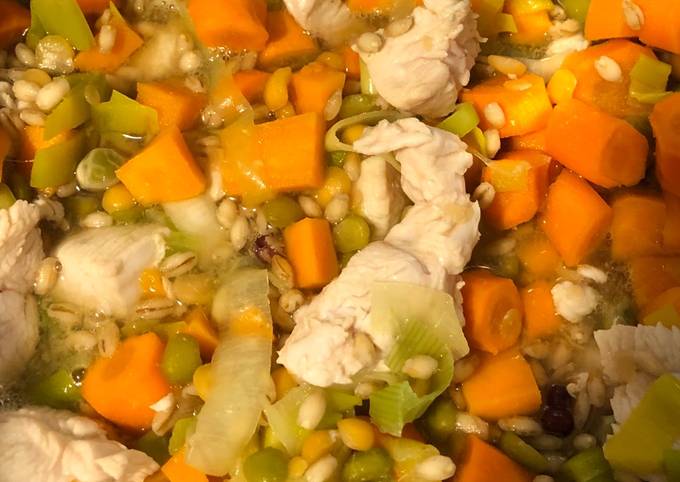 Flu and cold season is here just in time for the holidays. While this seriously sucks, there are actually certain foods such as ginger, turmeric, onion, garlic, and bone broth that may… Stir in chicken, black beans, zucchini, broth, salsa, red pepper and seasonings. Bring to a boil; reduce heat. You can cook Chicken and Sweet Potato Broth using 7 ingredients and 5 steps. Here is how you cook it.
Ingredients of Chicken and Sweet Potato Broth
It's of large Chicken breast, no skin.
It's of large Sweet Potatoe.
Prepare of Carrots.
Prepare of Leeks.
Prepare of Broth Mix(see other recipe).
Prepare of Chicken Stock cubes.
Prepare of Hot water.
If desired, serve with sour cream and cilantro. Since chicken broth is one of the most important ingredients in chicken soup, make sure to choose a flavorful broth or stock. The sweet potatoes should be cooked through but not falling apart. Increase heat to high, and bring to a boil.
Chicken and Sweet Potato Broth step by step
First of all, heat the kettle, then dig out 1 cup of Broth Mix. Put the mix into a large jug, with the stock cubes, then top up with boiling water to the 1 litre mark and leave to soak while you prepare the rest of ingredients. (Last picture shows how much this mix increases as it soaks..!).
Peel and dice the Sweet Potatoes and Carrots and put into a large stock pan. Add the sliced Leeks..
Chop up the Chicken into spoon- sized pieces and add to the pot..
Tip in the Stock with the Broth mix and bring to the boil. Turn down, cover and simmer for at least 20-30 minutes, to cook all the ingredients and let the stock cubes soak into everything..
Can be frozen, or eaten the next day, after storing in the fridge, of course!(if it lasts that long!) Enjoy!!.
Add sweet potato, cloves, desired amount of kosher salt and freshly ground black pepper, and water. Place sweet potatoes in slow cooker in an even layer, pour over chicken broth then sprinkle with half of the garlic and season with salt and pepper. In a small mixing bowl whisk together paprika, brown sugar, onion powder, thyme, rosemary and cayenne pepper. Sprinkle half of the spice mixture evenly over potatoes, set remaining aside. Stir the broth and cornstarch in a small bowl until smooth.
source: cookpad.com