Hot Desi Garlic Fried Rice. You can add any vegetables as per your palate preference. Add this recipe to your weekend brunch menu and surprise your friends and family. In a large wok or skillet, heat the oil over medium high heat.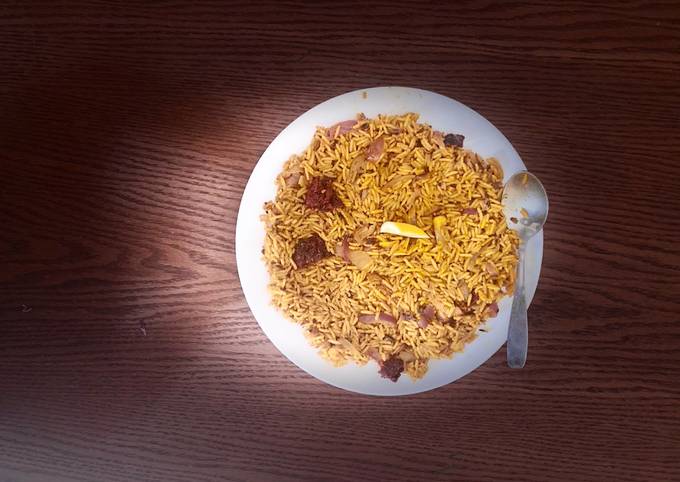 Slowly fry the thinly sliced garlic pieces until golden brown. If you add the garlic slices in hot oil, they would burn too fast and you may end up with burnt garlic slices. Melt the butter in a large skillet over medium-high heat. You can cook Hot Desi Garlic Fried Rice using 17 ingredients and 29 steps. Here is how you cook it.
Ingredients of Hot Desi Garlic Fried Rice
Prepare 2 tbsp of oil.
You need 1 pinch of Hing.
It's 1 tbsp of cumin seeds.
You need 2 pieces of green chillies, minced (+/- 1 for spice tolerance).
You need 1 piece of dry red chilli, broken by hand (+/- 1 for spice tolerance).
You need 5 cloves of garlic, minced.
You need 1 cup of onions, moon-sliced (sliced and cut in half).
You need 1 tbsp of turmeric powder (Haldi).
You need 1 tbsp of black pepper powder.
Prepare 1 tbsp of kitchen king masala (you can find it ready or can make your own with a mix of coriander powder, garam masala and cumin powder 1:1:1).
It's 1/4 of lemon squeezed.
It's 1/2 cup of chopped cilantro (garnish).
It's of lemon slices (garnish).
Prepare of For the rice boiling.
Prepare 1 cup of Rice.
Prepare 1/2 tsp of turmeric powder.
It's 1/2 tsp of salt.
Add onion and garlic; cook and stir until fragrant and lightly browned. Stir in rice and cook until coated and heated through. Remove from the heat and stir in the lemon juice. Heat oil in a work, Add in garlic and red chilles and fry for a min.
Hot Desi Garlic Fried Rice step by step
To boil the rice, see steps 3 to 8.
Main dish, see steps 9 to end.


Take a vessel with water, bring it to a boil.
Add a pinch of turmeric powder, and salt.
Add 1 tsp olive oil.
Add the rice and cook until it is slightly undercooked, approximately 8-10 minutes should do the trick.
When the rice tastes edible, slightly undercooked, strain the water.
Set the rice aside in a strainer for it to dry.
Cut chillies, garlic cloves and onions like this.


Take a wok/kadhai, heat oil.
When oil is hot, add hing, followed by cumin seeds, cook for 30 seconds.
Add green chillies.
Break red chillies by hand and add, Cook for about 15-20 seconds.
Add minced garlic and cook until it is slightly off-white in colour.
Add the moon-slit onion and sauté till they turn pink.
Add turmeric powder, black pepper powder and kitchen king powder.
Add little salt (this is for the onions to cook to their full potential) (we will be adding more salt later).
Add very little water to the dish (as little as 30 ml), this will help the spices blend and spread the flavour.
Add the rice we set aside in step number 8.
Lightly mix the spice mix we made and the rice.
Add water, approximately 60 ml this time.
Cover and cook on low flame for approximately 2 minutes.
Adjust the salt at this point.
Add chopped cilantro (coriander) to the dish and mix.
Squeeze 1/4 lemon into the wok and mix.
Cover and cook for more 2 minutes.
Add 1 tbsp vegan butter to the dish and stir.
Turn off the heat and cover for 1 minute.
When you serve, garnish with sliced lemons.
Add in onions and chillies and saute for a min. Add in salt and sugar and mix well. Now add in capsicum and mix well. Now add in chilli garlic paste, soy sauce, vinegar and mix well. Using the same wok from the egg (no need to wash it) on a medium heat, add the rice/ Using your spatula, break up the rice and spread it in the wok.
source: cookpad.com