Thai red chicken curry #helpfulcook. Save Time and Do Groceries Online Now. Free UK Delivery on Eligible Orders! Pour the coconut milk and chicken stock into the pan.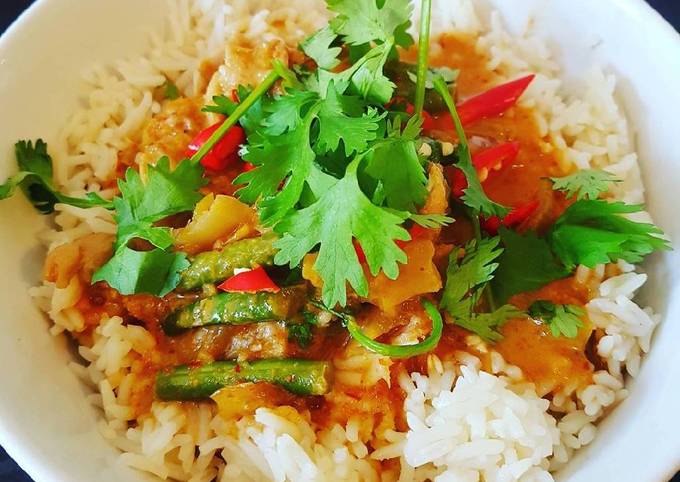 A Thai Red Curry with Chicken is one of the world's most popular curries! Make this with store bought curry paste (we give it a freshness boost) OR homemade red curry paste (the fresh flavour can't be beaten!). In a large skillet or pot, heat oil over medium-high heat. You can cook Thai red chicken curry #helpfulcook using 15 ingredients and 6 steps. Here is how you cook that.
Ingredients of Thai red chicken curry #helpfulcook
It's 8 of Chicken thighs.
You need of Thai red curry paste x 8 deep tbls.
It's 3 cloves of Garlic.
You need 1 tbls of Ginger – paste.
You need 1 tbls of Lemon grass.
It's 1 of Yellow pepper.
Prepare 1 of Brown onion.
You need 4 tbls of Sweet sugar.
It's 800 ml of Coconut milk.
You need 200 ml of Water.
You need of Milk x 200 ml (to taste).
It's 180 g of Green beans.
It's of Coriander x rough hand full.
Prepare 2 of Red finger chillies.
You need 1 tbls of fish sauce.
Add coconut milk, red curry paste, chicken broth, chicken breast, and brown sugar. Finely slice the red pepper and add this to the frying pan. Heat the curry until it is bubbling but not quite boiling and then turn the heat down to a simmer and cover. This Thai Red Chicken Curry is simple to make.
Thai red chicken curry #helpfulcook instructions
Chop up the bell pepper, onion and green beans..
Fry up the peppers and onions for 5 mins.
Fry the garlic and ginger for 2 – 3 mins before adding curry paste. Heat for 2 mins then add the coconut milk and heat through.
Once the sauce has started to bubble add the green beans, onion and pepper along with a spoon full of lemon grass. You can now add water and milk if needed to thin out the sauce and cool it down if needed. Add fish sauce and sugar to taste..
Fry up the thinly diced chicken then add to the mix throwing in corriander to taste..
Simmer for 10 mins and serve up. cutt up some red chillie and additional corriander..
Bring to a gentle boil, then reduce heat and simmer until thickened, a few minutes. Add the curry paste and stir again. Reduce the heat to low and add the chicken, bamboo shoots, reserved coconut. Heat oil over medium high heat, wait until it's hot, and then add garlic and onion. Stir until onion is translucent, then add thai curry paste, followed by chicken.
source: cookpad.com