3 Ingredient Dough Avo Pizza. This dough is revolutionary, it's great for beginners, easy to make, requires no rising time and bakes beautifully soft. With this insanely easy, three-ingredient pizza crust recipe, you can get all gourmet without kneading (haha, get it) to go out and buy yeast and wait two hours to let the dough rise. The Best Cast Iron for Pizza Here is my go-to, affordable and easy pan you can get at any Walmart (in the camping section).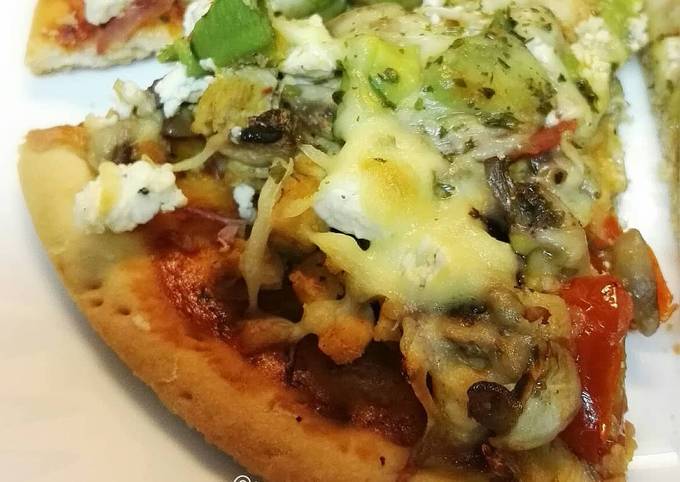 Turn out onto a floured board. By combining equal parts self-rising flour (or regular flour and baking powder) and plain Greek yogurt, anyone can experience the joy of baking from scratch, while infusing your dough with an extra boost of protein for more satisfaction. This is the easiest pizza dough recipe you'll ever make. You can have 3 Ingredient Dough Avo Pizza using 10 ingredients and 6 steps. Here is how you cook that.
Ingredients of 3 Ingredient Dough Avo Pizza
Prepare 2 1/2 cups of self-raising flour.
Prepare 3/4 tsp of salt.
You need 1 cup of yoghurt.
Prepare of Pizza Toppings.
You need of Cubed avocado.
It's slices of Tomato.
It's slices of Red onion.
It's of Cooked shredded chicken /leftover roast chicken.
Prepare of Crumbled feta cheese.
You need of Mozzarella cheese, grated.
This pizza dough recipe from Rebecca Lindamood's cookbook, Ready, Set, Dough!, is IT! Without a doubt, it is the BEST and EASIEST, and MOST DELICIOUS I have ever made. And I'm not talking about baby slices, but real slices. A simple Kulcha recipe that only calls for salt and curds and I have skipped adding Baking Soda in it.
3 Ingredient Dough Avo Pizza instructions
For the dough: in a large bowl add in flour and salt. Pour in the yoghurt and combine until you get a soft, smooth dough. If the dough is too wet, add in 1 tbsp of flour at a time until it's no longer sticky. If dough is too dry, adjust by adding 1 tbsp yoghurt at a time..
Allow dough to rest for 15-20 minutes. Divide dough in half. Roll it out on a floured surface into 2 x large pizza bases..
Par bake for 6-8 minutes at 180°C until puffed but not browned. Remove from oven. Smear with sauces of you choice..
Add toppings to taste. Any pizza toppings will do, I have topped with chicken, red onion, tomato and avo cubes..
Top with cheese. You can also sprinkle with mixed herbs or dried parsley before returning to the oven..
Bake for 15 mins until lightly browned on the edges and cheese has melted..
Heat a little ghee in a non-stick pan, add in chicken, chilli, garlic, seasoning and dried herbs. Remove to a bowl and set aside. Carefully transfer the pizza dough onto the baking tray and set aside. In a small bowl, add the tomato paste and KNORROX Spice All-In-One and stir to combine. Spread the tomato paste mixture onto the pizza base, ensuring to cover the pizza.
source: cookpad.com