Fried chicken and vegetable rice #charity recipe. Try Chicken & Yellow Rice With Broccoli & Cheddar Cheese For A Delicious Meal. See Recipe Browse & Discover Thousands of Cooking Food & Wine Book Titles, for Less. Add bowl contents, soy sauce, sesame oil, green onions, and salt.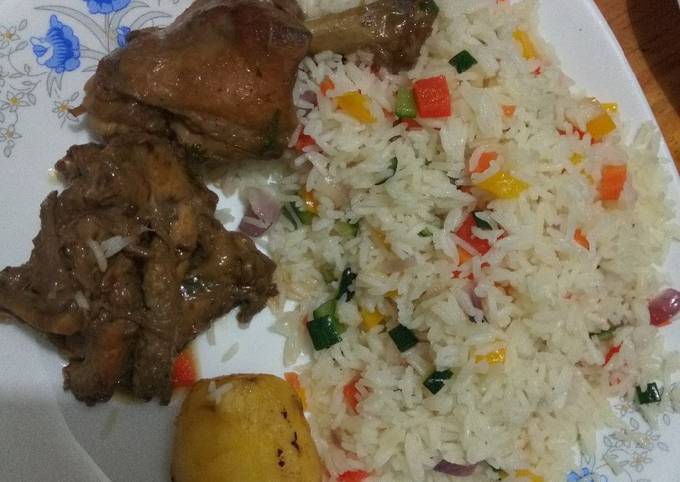 Add vegetable oil to skillet and heat over medium heat. Add the reserved, cold brown rice, cooked chicken and sesame oil. Stir well to distribute the oil and spread the rice and veggies all over the pan. You can cook Fried chicken and vegetable rice #charity recipe using 7 ingredients and 3 steps. Here is how you achieve it.
Ingredients of Fried chicken and vegetable rice #charity recipe
Prepare 2 kg of Rice.
It's 200 g of Carrots.
Prepare 200 g of Red pepper.
It's 200 g of Green pepper.
It's 100 g of Onion.
It's to taste of Salt.
Prepare 100 ml of Oil.
Walk away from the pan and let the ingredients brown a bit. In a medium bowl, toss chicken strips with the sesame oil and season with salt and pepper, to taste. Make the chicken and vegetables at the same time. The sticky chicken is the star of this quick mid week meal which can be largely made ahead.
Fried chicken and vegetable rice #charity recipe instructions
Cook the rice (biryani rice for my case)in ratio 1:1 don't let it to overcook and season..
In a separate sauce pan blanch the onions,carrots and pepper,season keep stirring.Drain off the oil.
Using kitchen fork mix above ingredients evenly serve and enjoy..
Add whatever vegetables you want to the fried rice. The vegetables I used were the ones I happened to have. Stir in chicken, salt and pepper. How to Make Chicken and Rice with Veggies Start by sautéing an onion and add red bell peppers, chicken, and garlic. Then add the cooked rice and broccoli, season with paprika and cardamom, and cover the skillet until the broccoli is as crisp-tender as desired, which is about five minutes for me.
source: cookpad.com