The Best Crock Pot Beef Stew. Place flour in a large shallow dish. Add stew meat; turn to coat evenly. In a large skillet, brown meat in oil in batches.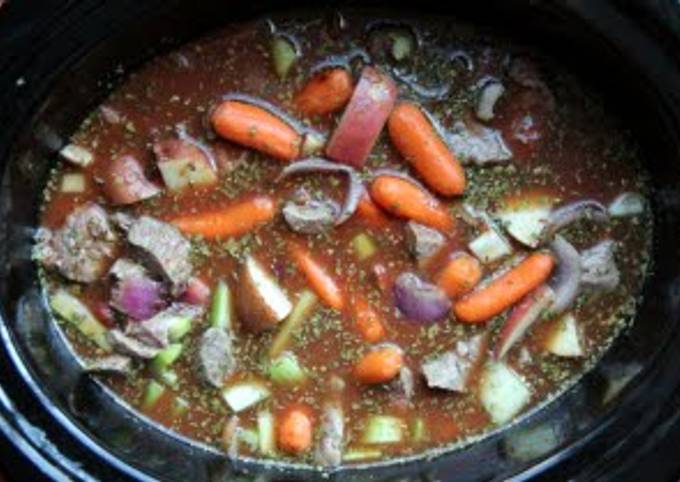 Add the beef broth, tomato sauce, worcestershire, italian seasoning, and salt and pepper. I will definitely make this again. Stir in the garlic, bay leaf, paprika, Worcestershire sauce, onion, beef broth, potatoes, carrots, and celery. You can cook The Best Crock Pot Beef Stew using 17 ingredients and 2 steps. Here is how you cook that.
Ingredients of The Best Crock Pot Beef Stew
Prepare 2 lb of Beef stew meat (cut into bite-sized pieces).
Prepare 1 tsp of salt.
It's 1 tsp of peppper.
It's 1 medium of onion, finely chopped.
Prepare 2 of celery ribs, sliced.
You need 2 1/2 clove of garlic, minced.
It's 6 oz of can tomato paste.
It's 32 oz of beef broth.
You need 2 tbsp of Worcestershire sauce.
You need 2 cup of baby carrots.
Prepare 5 small of Red potatoes, cut into bite size pieces (about 3 cups).
It's 1 tbsp of dried parsley.
Prepare 1 tsp of oregano.
Prepare 1 cup of frozen peas.
Prepare 1 cup of frozen corn.
Prepare 1/4 cup of flour.
It's 1/4 cup of water.
Stir in beef broth, wine, tomato paste, Worcestershire, thyme, paprika, caraway seeds (if using) and bay leaves until well combined. Season with salt and pepper, to taste. Begin heating up the olive oil in a large skillet. In a bowl, mix together the stew meat with flour, salt and pepper (if using.) Once the oil is super hot, add in half of the beef and brown it on both sides.
The Best Crock Pot Beef Stew instructions
Combine beef, celery, carrots, red onion, potatoes, salt, pepper, garlic, parsley, oregano, Worcestershire sauce, beef broth, and tomato paste in the crock pot. I used a 6 qt crockpot for this stew. Cook on LOW for 10 hours or on HIGH for 6-7 hours..
About 30 minutes before serving, mix the flour and the water together in a small dish and pour into the crockpot. Mix until well combined. This will add a nice thickness to the stew. Next add in your frozen peas and corn. Continue cooking covered for 30 minutes..
Toss all vegetables and meat in the crockpot. Combine spices except bay leaf, oil, cooking wine, beef broth and whisk lightly to combine. Pour into slow cooker over the beef. Add the potatoes, sweet potato, carrots, celery, Worcestershire sauce, Italian seasoning, bay leaf, beef broth, (star anise if using) and stir to combine. If there is not enough liquid to cover the vegetables, add water – only as much as needed.
source: cookpad.com