Leftover Lamb Sandwiches. When first cooked, definitely serve it with creamy mashed potatoes or polenta but store the leftover lamb in the fridge for some delicious sandwiches the next day. You'll want to slice the meat very thinly which will be easier to do when it's cold out of the fridge. Once sliced, you can heat it or just eat at room temperature.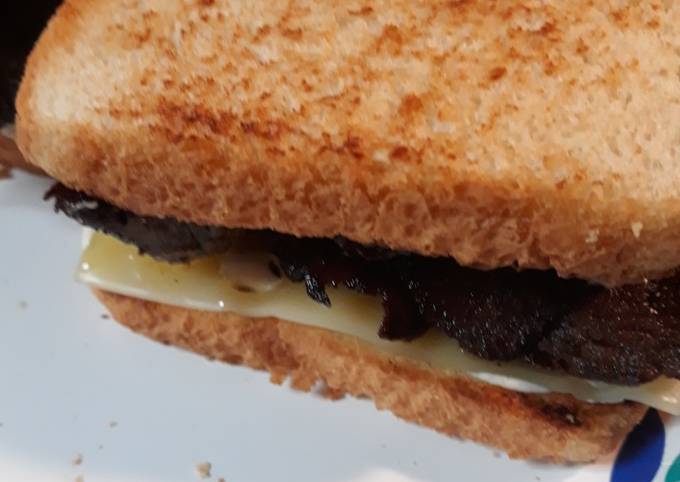 This is the perfect way to use up a roasted leg of lamb leftovers. Remember, if you use leftover pieces of roasted lamb that are a couple of days old, the sandwich will benefit from the addition of moisture. That being said, bread is also a very dry element so I highly recommend you include a sauce that helps bind all the ingredients together. You can cook Leftover Lamb Sandwiches using 6 ingredients and 4 steps. Here is how you cook it.
Ingredients of Leftover Lamb Sandwiches
You need 10 slices of leg of lamb Batch 4 see my recipe divided.
It's 3 tablespoons of butter.
You need To taste of salt.
It's 4 slices of bread.
Prepare 4 teaspoons of sandwich spread Batch 11.
It's 2 slices of swiss cheese.
It can be savoury or sweet, the choice is completely yours. Heat a pan on the stove and place your lamb in there without any oil. If you lamb has some fat on it, for heaven sake, do not cut it off, allow the meat to slowly brown and the fat to render out. If your lamb is very lean, add some olive oil to your pan.
Leftover Lamb Sandwiches instructions
Slice the leftover leg of lamb. Melt the butter and caramelize the lamb slices..
Turn as needed. Lightly salt and remove from heat. Pour the drippings over the top of the lamb and cover..
Toast the bread. Add the spread to the bread..
Stack the lamb and cheese. Add the bread on and serve. I hope you enjoy!!!.
When the meat has browned slightly, remove from the pan and add your sliced onions to the pan. Place in a bowl and set aside. If using the vinaigrette, drizzle some over the warm lamb. After you make the gyros, if you have some more leftover lamb (whether you made a grilled leg or my slow cooked leg of lamb), you can make leftover lamb moussaka! Minced up lamb, eggplant, and a creamy bechamel sauce.
source: cookpad.com