Basic Bread Pudding Recipe. In a small saucepan over low heat, warm milk, butter, vanilla, sugar and salt. Continue cooking just until butter melts; cool. This simple bread pudding is an easy way to use up those bits and pieces that seem to lie around the pantry.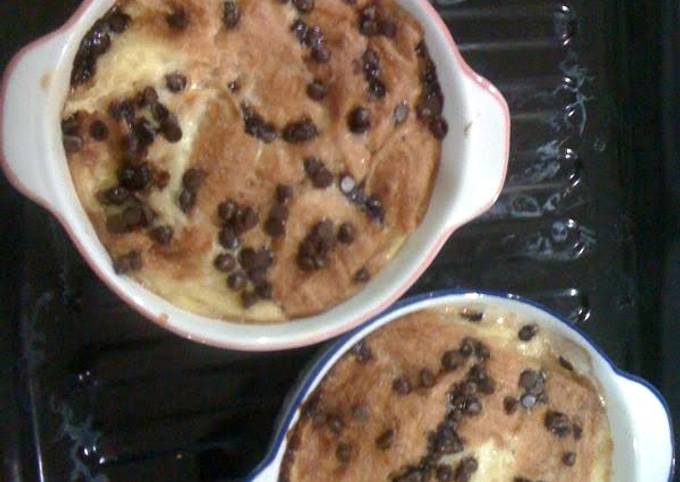 In a medium mixing bowl, combine eggs, milk, sugar, cinnamon, and vanilla. Pour over bread, and lightly push down with a fork until bread is covered and soaking up the egg mixture. Think of those slices of bread as your canvas to experiment with add-ins, sauces, and toppings. You can cook Basic Bread Pudding Recipe using 7 ingredients and 6 steps. Here is how you cook that.
Ingredients of Basic Bread Pudding Recipe
It's 4 slice of plain white bread.
You need 250 ml of milk.
Prepare 1 of egg.
You need 3 tbsp of castor sugar(or ordinary white sugar).
Prepare 1 tsp of vanilla extract(or essence).
You need 4 tbsp of unsalted butter.
Prepare 25 grams of chocolate chips (I'd always use more).
In a large bowl combine the beaten eggs, cinnamon and cubed bread. Combine the sugar, vanilla, milk, and salt and pour into the baking dish over the bread cubes. Our go-to bread pudding recipe in our Test Kitchen is this one from former staffer Maria Petrella. It's rich and lightly spiced—the perfect recipe to try if you're new to this dessert or are looking for a classic rendition of bread pudding.
Basic Bread Pudding Recipe step by step
Preheat oven to 180°C..
Spread butter on the slices of bread. Use cookie cutters to cut the bread. Place in greased casserole..
In a measuring cup, measure 250 ml of milk. Add the sugar, egg and vanilla extract into the measuring cup with the milk. Whisk to combine..
Pour the milk mixture into the casserole with the bread. Let the bread soak up the mixture for 10 minutes..
Add the chocolate chips on top..
Bake the bread for 30-45 minutes, or until golden brown..
Pour bread mixture into prepared pan. Place bread cubes onto baking sheet. Combine toasted bread cubes and raisins in prepared casserole; set aside. Combine all remaining pudding ingredients in. In a large bowl, beat eggs.
source: cookpad.com