Grandma's Snickerdoodle Recipe. Combine flour, cream of tartar, baking soda, and salt in a separate bowl; stir into creamed butter mixture until dough holds together. Mix the first three ingredients thoroughly and set aside. In a separate bowl, mix the Flour, Cream of Tartar, Baking Soda, and Salt.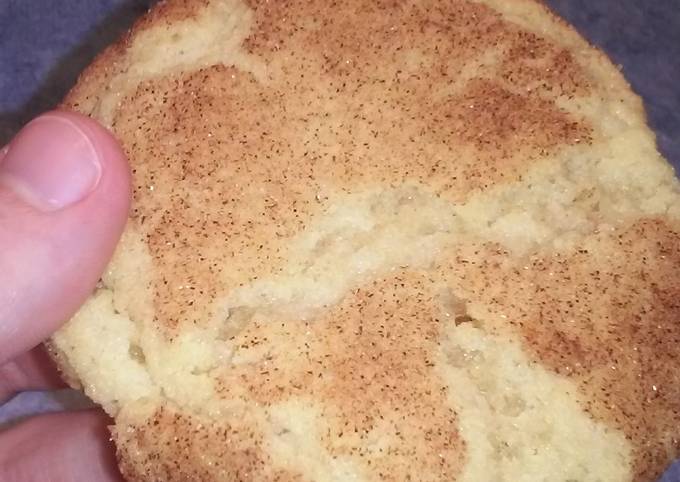 Shape the dough by rounded teaspoonfuls into balls (I make the balls larger than that. The bigger the ball, the bigger your cookie.) Snickerdoodles have always been one of my favorite cookies. This recipe is absolutely wonderful and what makes it even better is that it is my Grandmother's recipe. You can have Grandma's Snickerdoodle Recipe using 11 ingredients and 8 steps. Here is how you achieve that.
Ingredients of Grandma's Snickerdoodle Recipe
You need 1 cup of butter flavored Crisco shortening.
It's 1 1/2 cup of sugar.
Prepare 2 of eggs.
It's 2 3/4 cup of flour.
It's 2 tsp of cream of tartar.
It's 1 tsp of baking soda.
It's 1/4 tsp of vanilla extract.
You need 1/4 tsp of ground cinnamon.
It's of sugar coat.
It's 2 tbsp of ground cinnamon.
Prepare 2 tbsp of sugar.
I love family recipes and they are so special to me! I remember my mom making these growing up and I loved them! My kids love them just as much as I do too. In a separate bowl, use a whisk or fork to combine the flour, cream of tartar, baking soda, and salt.
Grandma's Snickerdoodle Recipe instructions
Beat shortening and sugar together.
After the sugar and shortening are well mixed, add eggs and beat in until mixed.
In a separate bowl, sift flour, cream of tartar, and baking soda. Mix well.
Add 1/4 of a cup at a time to the sugar mixture and mix well until all of the flour mixture is mixed in and forms a think dough.
In a small bowl add sugar and cinnamon.
Form dough in round dough balls and roll in sugar coating mixture.
Bake at 400°F for 8-12 minutes.
Let cool for 5 minutes and enjoy.
Add the dry mixture to the wet mixture and mix until well combined. Cream shortening, sugar, and eggs together well. Sift together the flour, baking soda, and cream of tartar. Roll the dough into balls about the size of a walnut. In a large bowl, cream together butter, shortening, granulate sugar and brown sugar.
source: cookpad.com