Korean Beef Ribs!. Whisk in brown sugar, white sugar, pepper, sesame oil, garlic, and onion until the sugars have dissolved. Submerge the ribs in this marinade, and cover with plastic wrap. Korean-style short ribs can be found at most Asian markets.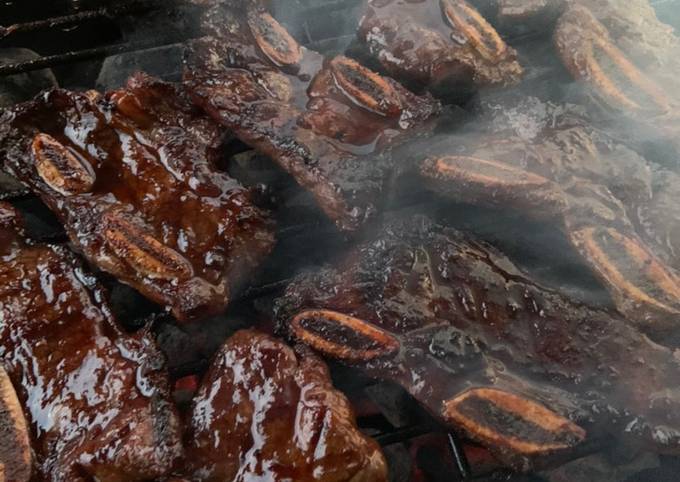 In another bowl, mix together soy sauce, brown sugar, rice wine, sesame oil, black pepper and cayenne. These Korean-Inspired Braised Beef Short Ribs are slightly spicy, slightly sweet and totally amazing! Korean cuisine has grown in popularity in recent years and will likely remain so. You can have Korean Beef Ribs! using 10 ingredients and 2 steps. Here is how you achieve it.
Ingredients of Korean Beef Ribs!
Prepare 3 lbs of beef rib ribs tips.
Prepare 2 tbsp of teriyaki sauce.
It's 2 tbsp of low sodium soy sauce.
It's 3 of garlic cloves minced.
You need 1 tbsp of calorie free sweetener (monk fruit) or sugar if you'd like.
You need 2 tsp of Gochujang powder.
You need 2 tsp of Chinese 5 spice powder.
Prepare of Salt/pepper.
Prepare 1/5 of olive oil.
It's Dash of chili oil and sesame oil- tsp of each.
The ribs are cut across the bone flanken-style, and have more the appearance of thin steaks than traditional short ribs. The Korean name for this recipe is Kalbi or Galbi, depending on who you ask. It's no wonder these incredibly succulent ribs are now surging in popularity in the U. Pour the leftover marinade into a saucepan, add the honey, and bring to a boil to form a glaze.
Korean Beef Ribs! step by step
Mince garlic and combine all seasoning. Add beef to heavy duty zip lock and add the mix. Shake/ combine and place in fridge until ready to grill!.
.
You can enjoy delicious Korean barbecue at home. It's all about the marinade and good quality meat, and it's easy to prepare! Galbi (or Kalbi, 갈비), Korean beef short ribs, is one of the most popular barbecue dishes in Korean homes, especially for special occasions and gatherings. Here's my tried-and-tested recipe for the perfect galbi marinade! *Korean-style short ribs can be found at most Asian markets. Blend soy sauce, sugar, oil, vinegar, ginger, garlic and red pepper in bowl.
source: cookpad.com