Table Of Content [
Close
]
Monster Cookies. Line cookie sheets with parchment paper or nonstick baking mats. In a very large mixing bowl, combine the eggs and sugars. Add the salt, vanilla, peanut butter and butter.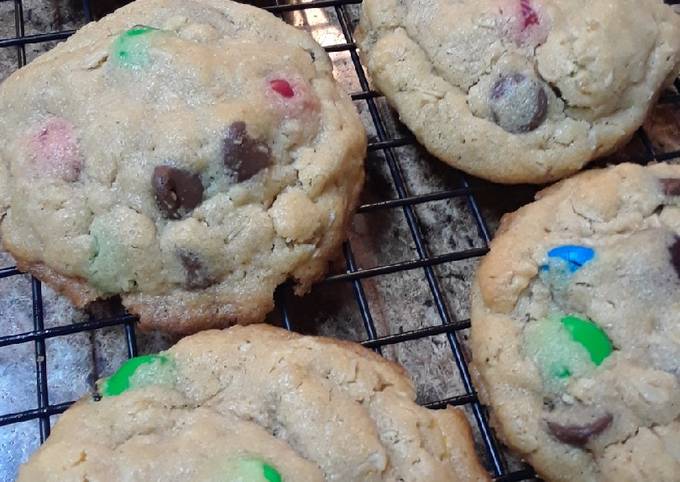 Before baking, I like to press a few extra M&M's on top for added color. —Patricia Schroedl, Jefferson, Wisconsin Use a cookie scoop to scoop balls of dough onto a cookie sheet. Serve with glasses of cold milk. This is the recipe I have been waiting for! You can have Monster Cookies using 13 ingredients and 5 steps. Here is how you achieve it.
Ingredients of Monster Cookies
Prepare 1 1/2 cups of all purpose flour.
Prepare 1 tsp. of baking powder.
Prepare 1 tsp. of baking soda.
Prepare 1 tsp. of salt.
It's 1 cup of unsalted butter, at room temperature.
Prepare 1 cup of granulated sugar.
You need 1/2 cup of brown sugar.
Prepare 2 of large eggs, at room temperature.
It's 2 tsp. of vanilla extract.
Prepare 1 cup of creamy peanut butter.
You need 2 cups of old fashioned rolled oats.
It's 1 1/2 cups of M&Ms.
You need 1 cup of semi-sweet chocolate chips.
I had a Monster cookie recipe that worked well for me over the years. For some reason the cookies haven't been staying together recently. Maybe they are making margarine with more water now or one of the ingredients have changed causing the recipe to not work. Beat in eggs, baking soda, vanilla and corn syrup.
Monster Cookies instructions
In a large bowl, whisk together the flour, baking powder, baking soda and salt. Set it aside..
In a seperate large bowl, use a hand mixer or a stand mixer with the paddle attachment to beat the butter until it is smooth and creamy. Then beat in both sugars. Once they're combined, beat in the eggs, vanilla and peanut butter, scraping down the sides as needed..
Beat in the oats, then on low speed beat in the M&Ms and chocolate chips until it's all just combined. Then cover the dough and place it in the fridge to chill for 20 minutes and up to 4 days. If chilling the dough for longer than 1 hour, then just leave it out for about 30 minutes before scooping it out..
Preheat the oven to 350°F. Line a few large baking trays with parchment paper or silicone baking sheets and set them aside. Once the dough has chilled, scoop it out (about 2 tbsp. of dough per cookie) and roll into balls. Place them about 3" apart on the tray..
Bake for 11-14 minutes, until the edges are lightly browned. Let them cool for about 5 minutes on the tray, then transfer them to a wire rack to cool completely..
Stir in chocolate chips and M&M's. If you make the cookies normal-size it makes soooooo many. They're similar to classic oatmeal cookies, only loaded with some more good stuff: peanut butter, M&M's, and chocolate chips. You can use any kind of colorful button shaped chocolates or candies instead of M&M's. These are generally called Monster Cookies, but could also be called "Everything Cookies" since they have everything in them…but I already have a version of Everything Cookies on my site and Hyacinth would get mad at me.
source: cookpad.com