Gluten-free Blueberry Muffins. Add the finely chopped zest of one lemon to the batter along with the milk. The following links are affiliate links. These gluten-free blueberry muffins couldn't be simpler to make.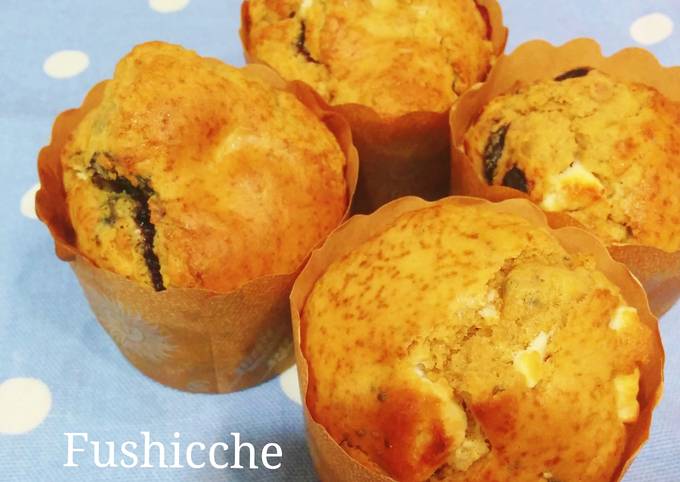 In a medium bowl, whisk together the flour, baking powder, baking soda, salt, xanthan gum, and cinnamon. How to make gluten-free blueberry muffins In a large mixing bowl, mix the oil and sugar. Add eggs, one at a time, beating well after each addition. You can cook Gluten-free Blueberry Muffins using 11 ingredients and 4 steps. Here is how you achieve that.
Ingredients of Gluten-free Blueberry Muffins
You need 2 of eggs.
You need 60 g of brown sugar.
It's 60 ml of coconut oil.
You need 2 tbsp of maple syrup.
It's 150 g of rice flour.
Prepare 50 g of potato starch.
Prepare 1 cup of blueberries.
You need 1 sheet of white chocolate (40g).
You need 2 tsp of chia seeds.
It's 50 ml of milk.
It's 1 tsp of baking powder.
Add vanilla and lemon zest and mix until combine. Mix the butter and caster sugar together until they form a light creamy paste. Add the eggs and beat with a whisk until the mixture is light and fluffy; this is the key to keeping the texture of. These Gluten Free Blueberry Muffins are so light and fluffy they make the perfect breakfast or midday treat whether you follow a gluten free diet or not.
Gluten-free Blueberry Muffins instructions
Preheat the oven to 180°C/350°F. Beat the eggs in a bowl, add the coconut oil, maple syrup and sugar. Mix well. Add the chia seeds, blueberries and chopped chocolate into the bowl to mix..
Add the rice flour, potato starch and baking powder to the bowl to mix, then pour the milk. Stir well until no powdery texture left..
Line a muffin pan with paper liners or use silicon muffin cups. Fill each muffin cup 3/4 of the way, and bake for about 20 minutes or until the top is golden brown..
Note: you can use only rice flour instead of adding potato starch, is so, add 200g of rice flour..
Blueberry muffins are a classic recipe Blueberry muffins have been one of my favourite muffins for as long as I can remember. Stand six paper muffin cases in the holes of a muffin or tart tray. Put the oil, yoghurt, sugar and egg into a large bowl and beat together well. Add the flour and stir to combine. In a large bowl, whisk together flour, xanthan gum (leave out if your flour already has it) sugar, baking powder, baking soda, salt, and dried lemon peel.
source: cookpad.com