Easy one pan bacon fried rice. Free UK Delivery on Eligible Orders Everything You Love On eBay. Check Out Great Products On eBay. In the same pot with bacon fat, add sesame oil, onion, garlic, frozen vegetables and saute for a few minutes until they are tender.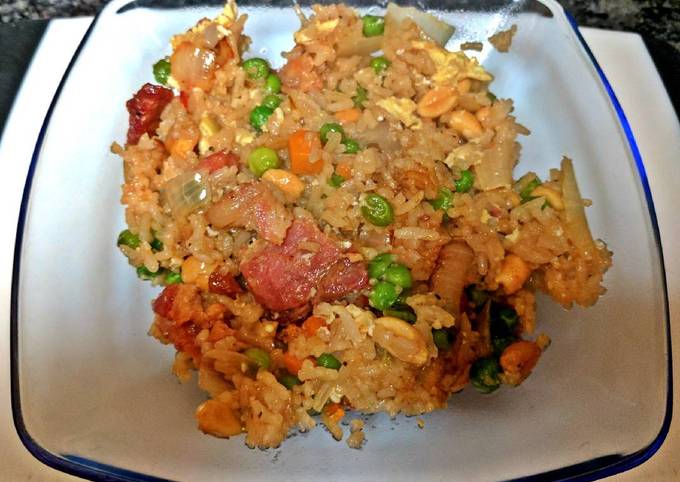 Easy one pan bacon fried rice Fo Fa. Pretty quick, good and easy This assumes you have the rice cooked already. It has a good fried rice flavor, and makes a decent meal. You can cook Easy one pan bacon fried rice using 11 ingredients and 13 steps. Here is how you cook it.
Ingredients of Easy one pan bacon fried rice
It's 3 cups of cooked rice.
Prepare 5 slices of bacon (bacon and oil).
You need 3 tablespoons of oil if NOT using bacon.
Prepare 3/4 cup of coarse chopped onion.
You need 4 tablespoons of light soy sauce.
Prepare 1 cup of bean sprouts (optional).
It's 1 of small can diced water chestnuts (optional).
It's 1 1/2 cup of frozen peas and carrots.
It's 1/4 cup of dry roasted peanuts.
It's 2 of eggs.
You need 1 of hot sauce (to taste).
The pictures i am making a double batch, left overs from a rice bowl recipe the prior night. Add the peas, carrots and scallions and stir to combine, then stir in the rice and soy sauce. Cook, stirring occasionally, until warmed through, then return the bacon and eggs to the skillet and stir to combine. Serve topped with additional scallions and sesame seeds.
Easy one pan bacon fried rice instructions
Chop bacon into about 1/2 inch pieces.
Heat wok, stir-fry pan or skillet over medium heat..
Add bacon to pan, stir and cook until almost done. Or if not using bacon, add oil and heat..
Add onion to pan, cook until tender, but try not to brown it..
Add hot sauce and stir it in if using..
Add frozen peas and carrots, stir until not frozen and half cooked. Add water chestnuts if using, stir 1 minute..
Add rice, stir for a minute, add soy sauce..
Add peanuts and bean sprouts. Stir for a couple minutes..
Make a hollow place in the center of the mix..
Add the eggs to this hollow you made..
Scramble eggs until mostly done..
Mix eggs into the rest of the rice mixture. Turn heat to medium-low. Stir for about 2 minutes to make sure all is hot..
Serve..
Or you can team it up with other favorite Asian entrees (like potstickers, orange chicken, beef broccoli etc) and have lots of yummy leftovers. Add your chopped bacon to a medium sized skillet or work. Cook over medium high heat until it is crisp. Stir in the onion and garlic. Stir in the rice, cooking until the rice is hot.
source: cookpad.com