Beef and broccoli stir fry stew #weeklyjikonichallenge. Add in broccoli and cook, stirring. Stir the soy sauce-cornstarch mixture, add it to the skillet and bring it to a simmer. In a small bowl, mix soy sauce, brown sugar, ginger and the remaining cornstarch and water until smooth.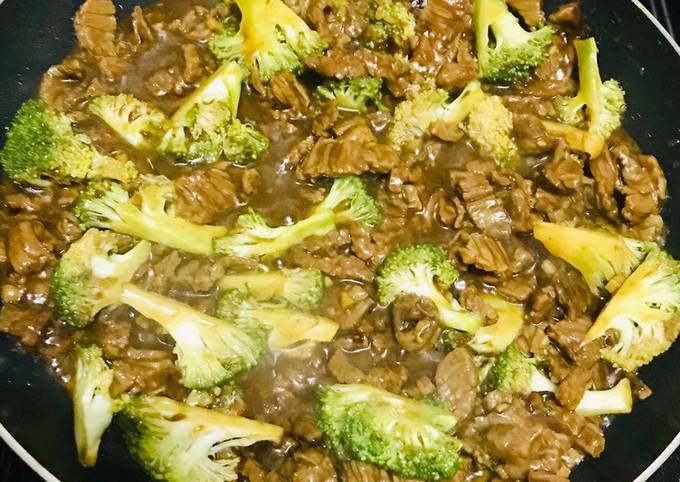 Then add the broccoli to stir-fry until tender-crisp. Add sauce and stir in with the steak, it should start to thicken immediately. Remove the broccoli from the pan; place on a plate and cover. You can cook Beef and broccoli stir fry stew #weeklyjikonichallenge using 13 ingredients and 4 steps. Here is how you achieve it.
Ingredients of Beef and broccoli stir fry stew #weeklyjikonichallenge
You need of Beef and broccoli ingredients :.
You need 450 g of flank steak very thinly sliced into bite-sized strips.
You need 2 Tbsp of olive oil (or vegetable oil), divided.
It's 450 g of broccoli (cut into 6 cups of florets).
You need of Stir fry sauce ingredients :.
Prepare 1 tsp of fresh ginger grated.
You need 2 tsp of garlic grated (from 3 cloves).
You need 1/2 cup of hot water.
It's 6 Tbsp of low sodium soy sauce.
Prepare 3 tbsp of packed light brown sugar.
You need 11/2 Tbsp of corn starch.
Prepare 1/4 tsp of black pepper.
You need 2 Tbsp of sesame oil (i used olive- what i had).
Remove from pan and set aside. Transfer beef mixture to a bowl. Bring the sauce to a simmer. Stir the cornstarch and water slurry to ensure it's well combined, and drizzle the mixture into sauce while stirring constantly.
Beef and broccoli stir fry stew #weeklyjikonichallenge instructions
Combine all stir fry sauce ingredients in a bowl, stir well to dissolve the sugar, and set aside..
Place a large skillet over medium heat and add 1 Tbsp oil. Add broccoli florets and sauté 4-5 minutes, partially covered with lid, stirring or tossing several times until broccoli is bright green and crisp-tender then remove from pan.
Increase heat to high heat and add 1 Tbsp oil. Add beef in a single layer and sauté 2 minutes per side or just until cooked through. Quickly pull out a piece to test for doneness..
Add the sauce, reduce heat to medium/low and simmer 3-4 minutes. It will thicken. Add broccoli and stir to combine. Stir in 1-2 Tbsp water to thin the sauce if desired. Serve over with rice/ugali/ chapati.
Make sure the oil is smoking hot. Drain oil from beef back into wok, add additional oil as needed. Directions Heat stew beef, green onion, seasonings, oil, vinegar, soy sauce and garlic in deep skillet over medium heat until meat is browned. Add broccoli, mix well, and cook on low covered until broccoli is to desired tenderness. Remove vegetables from pan and place in a food pouch and vacuum seal making sure veggies are evenly distributed in bag.
source: cookpad.com