Potato and corn chowder. Add the corn and stir to heat through. Blitz half the soup using a handheld blender, or gently mash with a potato masher, then return the blended soup to the pan. In a large saucepan, cook and stir onion in oil over medium heat until tender.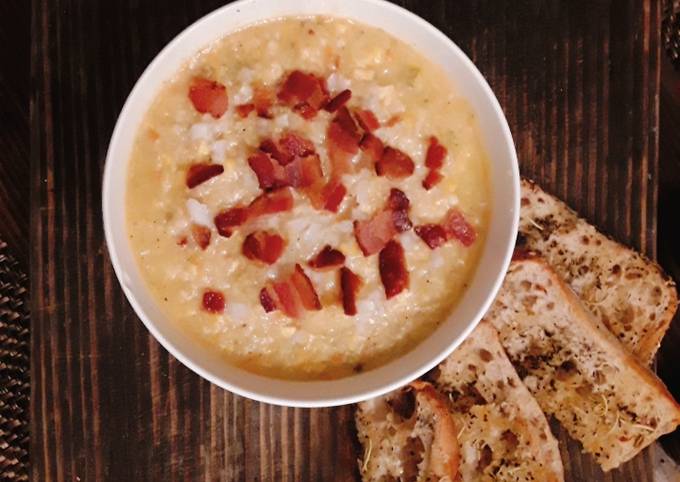 Stir into soup; return to a boil. Dump in the broth and potatoes. Add the shredded carrots and corn. You can cook Potato and corn chowder using 16 ingredients and 8 steps. Here is how you cook that.
Ingredients of Potato and corn chowder
Prepare 4 slices of bacon.
You need Half of sack of potatoes.
You need 5 of corn on the cob (with husk).
Prepare 1/2 of onion (diced).
It's 1 of large carrot (shredded).
Prepare 1 of celery with leafy ends (diced).
It's 3 cloves of garlic (minced).
Prepare 2 of knorr chicken bouillon cubes.
Prepare 3 tbsp of salted butter.
It's 1 1/2 c of heavy whipping cream or evaporated milk.
You need 1/2 tsp of ground thyme.
Prepare Pinch of cayenne pepper.
It's Pinch of sage.
You need 1/4 of smoked paprika.
Prepare of At least 2 tsp salt.
Prepare of At least 1 tsp pepper.
Dynamic Duo An easy, hearty classic recipe for potato corn chowder featuring lots of delicious veggies like bell peppers, celery, carrots, corn, and—of course—potatoes. Hint: Use as your grocery check-list or when at home preparing your recipe DIRECTIONS Combine, in a large pot,all ingredients except milk and flour/water. Cook until potatoes are fork tender. Add milk and flour/water, stirring well.
Potato and corn chowder instructions
Peel all the skin off potatoes and chop into bite sized pieces. (About 1 inch)..
Remove husk from corn and clean very well. Remove any bad spots. Over a large bowl use a knife to remove kernels from the cob. Then, take a spoon and 'milk' the cob, removing all of the kernel bits and juice from the cob. I save one cob and milk it at the very end as a garnish..
In a Dutch oven, brown the bacon. Leave 1/4 of grease rendered in pot, set the rest aside. Set bacon on napkin to absorb grease and use as topping for end result..
Melt butter in pot with the bacon grease. Add onion and celery. Season with a little bit of your salt and pepper. Saute for a few minutes or until onion is translucent and flavors are brought out. You can smell when this has happened..
Add your carrots, garlic and the rest of your seasonings (except for chicken bullion). Saute for 2 minutes..
Add potatoes and corn to pot. Fill with water about 1 inch above ingredients. Cover and bring to a boil. Add cream and chicken bullion and stir. Reduce heat and simmer 30 minutes or until potatoes are tender..
Use an immersion blender or hand potato masher and blend 1/3 of potatoes to thicken broth. If you like a thicker chowder you can mix 2 tsp of cornstarch with some cold water and add to pot. Allow to simmer 10 more minutes and serve..
I garnish mine with fresh pulp from one corn, parmesan cheese and the bacon bits..
In a large saucepan, heat butter over medium-high heat. Stir in broth, scraping the bottom of the pot to remove any browned bits. Stir, bring to a simmer, and reduce heat to medium. Slowly whisk in the milk, and bring to a simmer over medium-high heat. Add the bacon, cooked vegetables, potatoes, and corn.
source: cookpad.com